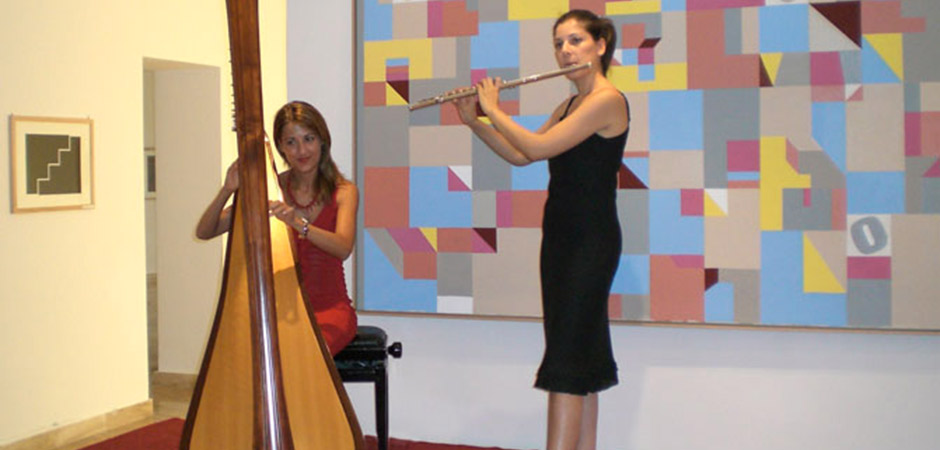 Il duo propone un programma che presenta un vasto repertorio antologico composto da alcuni dei brani più suggestivi scritti per questi strumenti dal 1600 ad oggi, dedicando attenzione anche alle antiche melodie irlandesi e alle pagine della musica da film.
Due danze medievali  –  
M. Amorosi
Nartex  –  
B. Andrès
Siciliano  –  
J. S. Bach
Sonata in Do magg. n. 4  –  
J. S. Bach arr. B. Andrès
Intermezzo dall'Arlesianne  –  
G. Bizet
Intermezzo dalla Carmen  –  
G. Bizet
Variazioni dalla Cenerentola di Rossini  –  
F. Chopin
En Bateau  –  
C. Debussy
Larghetto e Allegro  –  
G. Donizetti
Berceuse  –  
G. Faurè
Siciliana  –  
G. Faurè
Fantasia per flauto e arpa op. 67  –  
A: B. Fürstenau
Dance of the Blessed Spirits  –  
C. W. Gluck
Meditation  –  
C. Gounod
Passacaglia  –  
G. F. Haendel
Entr'acte  –  
J. Ibert
Driades  –  
D. Inghelbrecht
Scapè  –  
D. Inghelbrecht
Intermezzo dalla Cavalleria Rusticana  –  
P. Mascagni
Meditations dal Thais  –  
J. Massenet
Nocturne  –  
F. J. Nadermann/ Toulou
Canone in re  –  
J. Pachelbel
Berceuse  –  
A. Padovano
Siciliana  –  
T. von Paradis
Histoire du Tango: Cafè 1930, Night club 1960  –  
A. Piazzolla
Libertango  –  
A. Piazzolla
Ground in F  –  
Henry Purcell
L'Aube Enchantée  –  
Ravi Shankar
Siciliana  –  
O. Resphighi
Andante con variazioni  –  
G. Rossini
Romance op.37  –  
C. Saint Saens
O mio babbino caro da Gianni Schicchi  –  
G. Puccini
Sonata  –  
N. Rota
Piece en forme de habanera  –  
M. Ravel
Gymnopedies  –  
E. Satie
Suite 
dallo
 Schiaccianoci  –  
P. Tchaikovsky
Le carneval de Venise  –  
arr. Genin/ Teevin-Lebens/Todd
Musica da film
Tema d'amore dal film The Godfather (Il Padrino)  –  N. Rota
A Time for Us dal film Romeo e Giulietta  –  N. Rota
Blue Moon  –  R. Rodgers
Moon River dal film Breakfast at Tiffany's (Colazione da Tiffany)  –  J. Mercer & H. Mancini
Musica celtica
Believe Me If All Those Endearing Young Charms trad. irl.
Brave Wolf trad. irl.
Cutting Braken trad. scozz.
Flow Gently, Sweet Afton trad. scozz.
Gentle Maiden trad. irl.
Glenlivet trad. scozz.
Good Night trad. irl.
Greensleeves trad.irl.
Lament for Gerald trad. irl.
Let Me Fish Off Cape Saint Mary's trad. irl.
Marcia del Re Brian Boru trad. irl. sec. XI
Mary's Wedding trad. irl.
My Wild Rose trad. irl.
Sally's Garden  trad. irl.
Variazioni su una canzone irlandese Ank Van Campern
Ye Banks and Braes trad. scozz.
Musica natalizia
Angel From Heaven
Away in a Manger
Angels We Have Heard On High
Coventry Carol
Joy to the World
O Holy Night
O Little Town of Bethlehem
Oh, Come, Oh, Come Emmanuel
Silent Night
We Three Kings of Orient Are
We Wish You a Merry Christmas
What Child is This?
Tutti tradizionali arrangiati da L. M. Pap Nagy